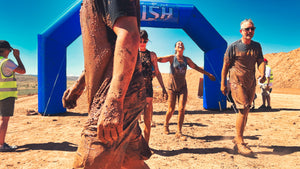 Hurricane Mud Run 2023
 Sometimes the adventure can be near or far. This adventure was the Hurricane Mud Run and close to home is Southern Utah. The Hurricane Mud Run is a 5K with over 25 obstacles. The whole event is in mud so we got DIRTY!! It was extremely fun and not too difficult. I advise participants to wear supportive shoes as I injured my big toe and my friend had to run barefoot because her shoes wouldn't stay on her feet through the mud. The mud run is not a relay race so it was nice for my friends and I to start together, work as a team to help each other out during the obstacles, and across the finish line together.
For those that are into Mud Runs or just want to experience something new to do, when you're in Southern Utah on your Overlanding adventure check out the Hurricane Mud run. Click here for further details about the Mud Run. 
We are not affiliated with the Hurricane Mud Run. We like to share our adventures.
Adventure . . . Let's get lost together.
---